Office Management Plus Designing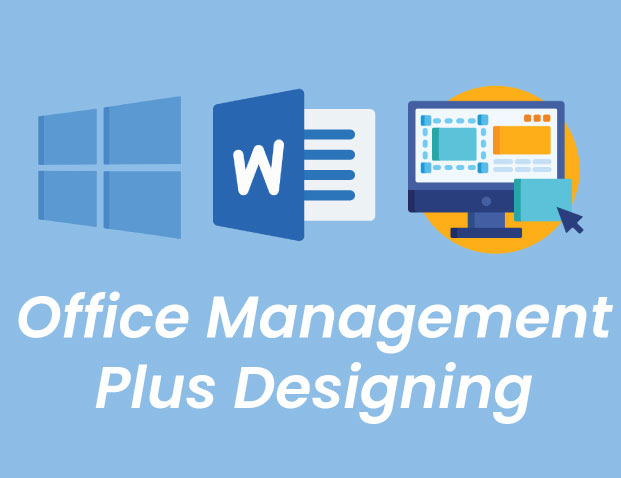 Description
   MODULE - 1
 • Computer Funda.
 • Windows
 - Paint & Word Pad
 
 Office Management
 
     • MS Word
     - File & Formatting
     - Mailing
     - Tools & Table
     
     • MS Excel 
     - Create Worksheet 
     - Editing & Formula
     
     • MS Power Point
     - Create Presentation
     - Effect & Slide Show
 
   MODULE - 2
 • Graphics & Designing
     • Page Maker
     - Graphic Works
     - Revert & Place
     - Type Formatting
     
     • Corel Draw
     - Symbol Creation
     - Multicolor Design 
     
     • Adobe Photoshop 
     - Image Editing
     - Image Variation
     - Layers & Filters
     
     • Gujarati Entry 
     • Hindi Entry 
     • Internet 
Duration
Classes are held from monday to saturday. Choose a suitable batch time between 8 AM to 8 PM. You can also complete this course quickly by attending extra hours of classes.
RELATED COURSES Few more other courses
Job Opportunities
Job opportunity for IT and non-IT fields in computer operator, data typing, email marketing & Design professionals produce designs, symbols, illustrations & photography for use in print & electronic publications and Internet publishing industries.
Jobs Available In
Back-Office
Data-Typing Operator
Computer Operator
Office Assistant
Advertising Agencies
Graphic Design Studios
Print & publishing houses (like newspapers, magazines, etc.)
TV & Multimedia production houses
E-learning companies
Website development studios
Web Design Studios